21. Monica Potter | Parenthood
Obviously it was never going to happen, as this entire show is always overlooked (save for Jason Ritter as a guest star). Monica Potter is a revelation as a mother of a child with autism and she plays this part wonderfully.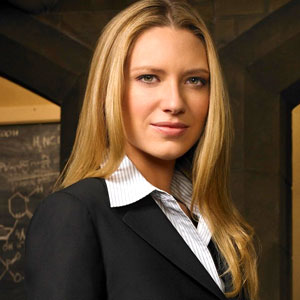 20. Anna Torv | Fringe
If Kathy Bates can be nominated for a horrible show that was cancelled, why couldn't Anna Torv have been nominated for her great work on an even better series?
19. Lana Parilla | Once Upon A Time
I'm not saying the show should ever be nominated, as it clearly has its faults. But Lana Parilla is so deliciously evil as our evil queen. She's the best thing about Once and in a lesser stuffed year, perhaps could have had a chance.
18. Timothy Olyphant | Justified
Hands down should have been nominated over Michael C. Hall, whose character has become extremely stale.
17. Emilia Clarke | Game of Thrones
I wasn't the biggest fan after season one, but after season two I am completely sold on Emilia in this role. She's a knockout and should have been nominated.
16. Nathan Filion | Castle
Will Emmy's ever give this guy the recognition he deserves? Castle is the one procedural we actually like here at ListsAndGrades, and Nathan deserves a nod.
15. Emily VanCamp | Revenge
She's great as our semi anti heroine and deserves this in equal measure as her great costar Madeline Stowe.
14. Kaitlin Olson | It's Always Sunny in Philadelphia
This show consistently gets overlooked every year, which is expected. But Kaitlin is hilarious and really shined this season.
13. Parenthood
Family dramas like this always go overlooked, which is a real shame as this is not only one of the best ever of said genre, it's one of the best dramas on TV.
12. Madeleine Stowe | Revenge
I think the biggest reason for her snub is because she submitted herself in the lead category. Our advice? Put yourself in the supporting competition next year and you might have a better shot. She deserves it.
11. Laura Linney | The Big C
The show has faltered a bit since season one, but Laura Linney remains exceptional as a woman battling cancer. She definitely deserves this over many of the other nominees.
10. Enlightened
It wasn't exactly a critical hit when it started, but as the show continued, it was greatly impressive. If Veep can be nominated for saying absolutely nothing and The Big Bang Theory can be nominated for being mediocre, Enlightened certainly should have received the nod for giving us something interesting and different.
9. Casey Wilson | Happy Endings
The whole show was overlooked, which is just silly, as it's a better more updated version of Friends. Specifically, Casey Wilson is genuinely funny here and brings Happy Endings to a new level.
8. Maya Rudolph | Up All Night
The single reason Up All Night is a good show worth watching.
7. RuPaul's Drag Race
A show about the trans world is never going to make it to the Emmy's. That said, it certainly deserves it over nonsense like Dancing With The Stars. This show has more heart and passion than most.
6. Katey Sagal | Sons of Anarchy
I could see why the show and the men continue to get over looked, but Katey Sagal is a marvel here, especially considering the other nominees.
5. Laura Dern | Enlightened
There wasn't a character on TV this season I fell in love with more than Laura Dern's Amy. Touching, fun, and always hilarious. Laura Dern is one of the biggest snubs this season.
4. Portlandia
Not only was this show overlooked by Emmy voters, it is completely overlooked in snub categories as well. Basically, Portlandia is completely off the radar. Which is a total shame considering it's one of the best comedies on television. Additionally, Fred Armisen and Carrie Brownstein are true comic geniuses. This show is brilliant.
3. Nick Offerman
He's the funniest and most interesting character on Parks and Recreation, and truthfully one of the most unique characters on any comedy. Considering we have four guys from Modern Family, they could have spared more votes on Offerman.
2. John Noble | Fringe
John Noble has been consistently amazing as Walter Bishop on Fringe for four seasons. Why the voters continue to overlook this show, especially Noble, while rewarding Game of Thrones and someone like Peter Dinklage (who is equally as great) is really beyond me.
1. Parks and Recreation
The single best comedy on network TV is overlooked again. This show is so colorful and enjoyable it's really hard to see why voters would choose something like Veep or The Big Bang Theory over it. Parks and Rec has every element included in those programs, only does it all better. At least Amy was nominated.