Gaga
The performance of You And I was flawless in every way. Spot on vocals, Gaga in drag, piano thumping. What wasn't flawless was the fact that she remained in drag all night. I get it, and I appreciate the commitment, but when accepting an award, and especially when presenting Britney with her Vanguard award (whatever that is), it only came off as a little rude that she couldn't just be herself in that moment. It felt disingenuous to play that up the whole night. However, the performance itself was amazing.
A
Jay Z and Kanye West
Um, I love you both, and Kanye, I think you're the best rapper ever. But that performance was so juvenile and amateur I didn't even know it was you until about 30 seconds in. That song is tolerable, if decent at best. Maybe I'm in the minority, but you both sounded like high school students trying to rap. Perhaps you could have been better had you not been trying to share the stage with Jay. You both have great chemistry though.
C-
Pitbull and Neyo
Is there any way we can take the chorus of this song and just bottle it up and play that for about three minutes every time this song comes on? Because Neyo, you're great, and this song makes me want to go dance like nobody's watching. But Pitbull, I find you only  a little less frightening than Lil Wayne, who we'll get to in a second.
B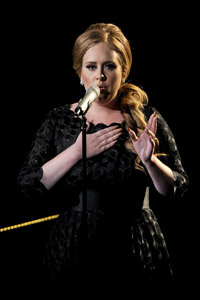 Adele
I've heard this song a million times, the first few times I probably cried. But then you get over it. However, last night's performance of Someone Like You seriously left me in awe. Had other people not been in the room, I may have been weeping. I've seen Adele perform this on other award shows, and it didn't affect me like that, and I'm not quite sure it affected her that way either. It seemed like she was holding back tears the entire time. Without a doubt, the girl who stood there and sang a song with just a piano and some great vocals was the best performance of the night. Chris Brown could learn a thing or two from you.
A+
Chris Brown
Can we please stop pretending Chris Brown is anything more than what Britney Spears was when she came out years ago, which is, a great dancer who refuses to sing live. This guy needs to get over himself. I will never get over the fact that he's a woman beater who refuses to apologize or ever acknowledge it. The dude is a total tool. Yes, his performance was fun, and I enjoy the song Beautiful People, but why can't the guy just start singing? At least try.
C
Beyonce
Forget about the semi-indulgent baby bump, lets talk about that amazing song Love On Top from her stellar album 4. The song is a throwback, which fits extremely well on the CD, was an extremely welcome performance last night and she killed every second of it. There is nobody more talented than Beyonce, the valedictorian of the pop world. That bitch can do it all, even with a baby inside her.
A
Young The Giant
Um, who? No thanks.
D-
Bruno Mars
Instead of Valerie, I would have loved to hear Tears Dry On Their Own or Back To Black. That said, Bruno is insanely talented and nailed the tribute. The guy is near flawless every time he performs, even if his throwback schtick is getting a little played out.
A-
Lil Wayne
Lil Wayne, while sort of respected, is still the most frightening thing to come out of the entertainment industry since Madonna's vagina all those years ago. His song How To Love is adorable, and such a welcome new side of him that I'd love to see more of, but whatever he did after that last night was just a not-so-hot mess. I don't really get him, or why everyone loves him, other than the fact that he brought us Drake and the wonderful Nicki Minaj. But to choose him to end the show is a little alarming, to say the least. I'm not really a big fan of dirty shirtless people with blinged-out teeth.
B-
Some Other Thoughts
Justin Bieber Winning Best Male Video
Not only should Justin not have won this, he shouldn't ever win anything. And thanking God AND Jesus in your acceptance speech at age seventeen is just absurd. Get a personality, Biebs.
Nicki Minaj Wining Best Hip Hop Video
It wasn't expected, but it was wonderful. The girl deserves everything, and Super Bass is undeniably great.
Kanye and Jay Z's Cuteness
This was probably the most nice and sober I've ever seen Kanye. When he won the award with Katy Perry for ET, he looked like a genuinely nice guy, smiling and being grateful with no sunglasses on. And seeing Jay after Bey revealed her baby bump was also kind of adorable. Happiness and smiling faces suits the both of you very well.
Jessie J
Poor Jessie J. I love Price Tag and Do It Like a Dude, but you were the artist last night who just wasn't respected in any way. Succumbed to the chair and performing covers that nobody was even listening to. However, I do have to give you a major thumbs up for breaking into No Scrubs after Chris Brown's over-rated acrobat show.
Britney's "Tribute"
Mess. What happened to a bunch of pop stars performing all her classics? Was that just a rumor? If so, you should have said so. All we got were a bunch of tweens dancing to a medley of your songs? Awful
No Host?
Get a host next year.